---



Ceps


September 20, 2008
09:04 PM

Ceps


With a view to being an intrepid mushroom hunter, my first
autumn days in the Languedoc were a little underwhelming.

Our first effort, of picking some wonderful looking mushrooms, was
a total failure, only one of same reckoned by a mushroom expert
to be edible.

My next attempt was far more embarrassing.

We stopped at St. Pons for breakfast and odered coffees in the cafe
while I went in search of croissants. (This practice is totally normal
in France)
In the nearest Patisserie I saw a basket of plump ceps on the counter.
I was delighted and ordered some to take away with my croissants.
As soon as I touched them I realised that they were clever reproductions
-in sugar- of the real thing.
Madame was of course delighted and flattered by the success of her
little deception so I was able to leave the shop Ceps less, and without embarrassment.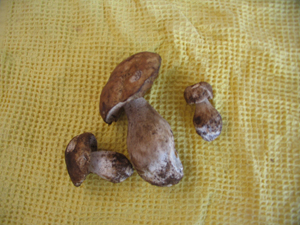 Today, however I managed to find some real ones.
And even though I know a mushroom hunter should never reveal
his sources, I will tell all for I found a little basket in the vegetable
counter of my local Super U.
(These ones cost me about a fiver)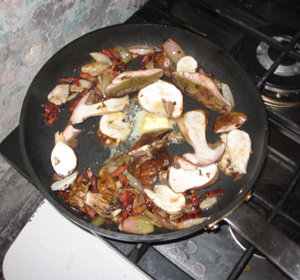 I fried them up with a few lardons, some shallots and a little red wine.
I bought a couple of slices of local Limousin Beef fillets to go with them.
They were delicious, as beefy as the steak and yet tasting beautifully of the earth.

0 Comments
---