---



Moving Statues


January 23, 2012
08:55 AM

Moving Statues


When we bought the Le Presbytere, now five years ago, the sisters who had been living here left some things behind which the archdiosces of Montpellier , whom we paid for house, didn't think worth removing.

In the courtyard under our terrace , just outside the garden lavatory , they left a full sized statue of Our Lady of Lourdes . we were bemused with this legacy , not being strong Catholics it didn't seem appropriate to bring her into the house and offer her a niche on which to be venerated, but still we were far too engrained in our religion to either destroy her or give her away.
She is a little past her prime , we think she had lost her place in the church (replaced by a newer model) when her blue sash started to flake off.
And so she has stood in the courtyard , occasionally putting the heart and soul across an unsuspecting guest who might wander in the garden as she appeared out of the gloom.

Yesterday Síle was doing some gardening and decided to move some plants around , a Lemon tree was moved to a sunnier spot and another Lemon (another legacy from the nuns which has never borne fruit but which has the most spectacular thorns ) was moved out to a place where it would perhaps be less sunny to stop its heady growth .
Then under our climbing Solanum - another legacy from the sisters which produces lovely clusters of white flowers for ten months of the year- we had a hole to fill.
Síle was inspired to put the virgin into this bower and so , with much pulling and hauling (and puffing and panting) we pulled the lady across the garden and set her into her new grotto.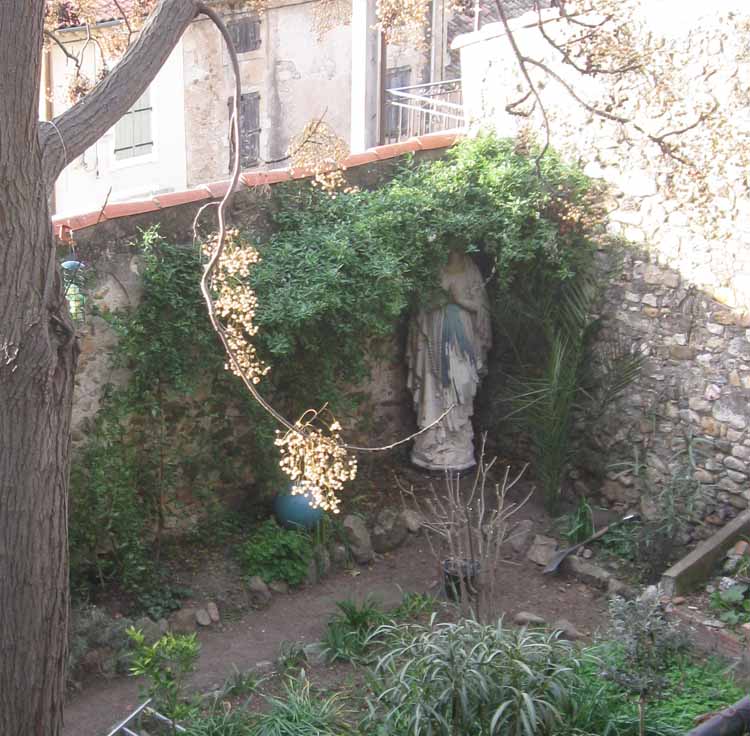 It was made for her.
We are not quite sure what will happen next , the weather may be unkind to her and remove her last vestiges of colour , being made of plaster of Paris she may start to melt away slowly but whatever is in store for her I think we are both much happier that she will not end her days , in a gloomy courtyard outside a lavatory door , but in a position where she can be admired and where she will be crowned with Solanum blossom.
1 Comments
---