---



Smallest Amphitheatre in the World.


July 21, 2014
08:37 AM

Smallest Amphitheatre in the World.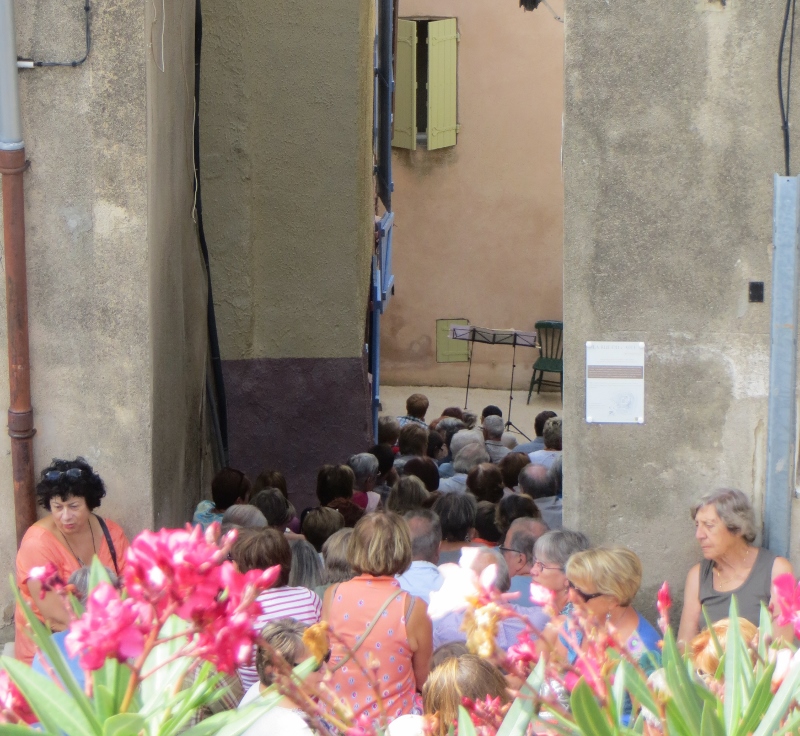 It is that time again when the Nuits del Terrasse et Del Catet festival of our local villages takes off from the side of our house. As usual we offer electricity and a changing room for the Artistes (this time the Quatuour Debussy) and yet again they forget to bring a chair for the viola so they make do with our green kitchen (and totally Irish!) chair.
0 Comments
---
The Liqueur Cull


July 18, 2014
12:47 PM

The Liqueur Cull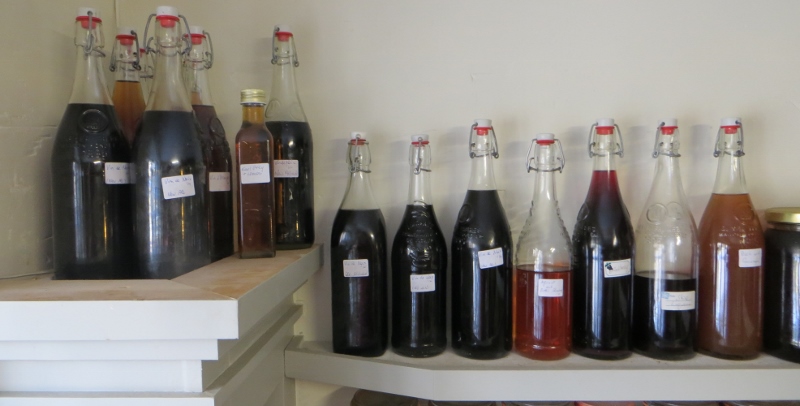 I am a bit of a compulsive Liqueur maker, as most I my friends will agree.
I go by the feeling that if it tastes good raw it will be even better drowned in alcohol.
This unfortunately is not quite true.
I have had successes in the past with Sloe Gin particularly (and not necessarily made from Gin)- but of late I have noticed that there are a lot of bottles sitting on the top of my Jam shelves which no-one is drinking.
Time for a liqueur cull obviously.
Yesterday afternoon Sile and I went thyrough the- not altogether unpleasant- experience of tasting all my patent concoctions and deciding on their fate. All the survivors were refiltered and rebottled.
There were some jettisons- yes down the sink discards. The Elderflower distillation was chucked,it was sharp and scented with cat pee, the white peach liqueur had lost any trace of flavour and just tasted of sharp alcohol- down the drain it went.
Then there was the Vin d'Orange and also the Seville Orange Liqueur, the first a little bland and sweet, the second sharp and marmaladey. We poured the whole lot into a basin,mixed both together sweetened it a little and Voila ; a totally acceptable Vin d'Orange, even if a little higher in alcohol than it should be. The Blackberry and the Raspberry were both quite OK, they had improved and mellowed a little in the bottle. Some of the wilder experiments were also quite drinkable, the Peach and Cinnamon was nicely spicey, the Apricot and Bitter Almond had a terrific colour and a good almond bite, even the rather wierd Earl Grey and Lemon Gin had held together well. The undoubted Piece de Resistance however was my latest distillation. Le Vin de Noix. That is delicious and has slipped down many's the throat easily. I think we have found our House Liqueur here and so I have popped on another five litres to macerate today.
1 Comments
---
Not Lost in Translation


12:01 PM

Not Lost in Translation


We had a lovely couple from the Loire staying this week, he was a talker and all he told us was interesting. He had been a vigneron for about 20 years, before that he had grown apples- he had not been able to afford to buy the apple trees for his orchard, he told us (this would have been just after the war) but some how he had managed to acquire shoots and slips from established trees and built his orchard that way. But after about 10 years of this they started to import cheap apples from the East of Europe so he had turned to vines and when these in turn ceased to turn over enough money for him he had opened a cafe and turned his place over to holiday gites and so he had spent the last years, drinking wine with the holidaymakers in his cafe.
It seemed that this was the bit he had enjoyed best.
They lived by the river Cher, within sight of France's most beautiful castle Chenonceau and,because of an old right of way, had free access to the castle along a river path. When they discovered that we were going to holiday near there later this year, they insisted that we must visit them and enjoy their access to the castle with them.
We just might.
All this was told to us when we give them a welcoming glass of Vin Blanc on the terrace on their arrival, where they also gave Madame Dwyer the ultimate compliment on her French by turning to me and saying; " So how did you, an Irishman, manage to marry this lovely French woman"


0 Comments
---
Finding Trudy


July 16, 2014
11:53 AM

Finding Trudy


It is now forty two years ago, and about this time of year, when my career path changed for ever.

I had spent a year training to be a teacher, attending Sion Hill Froebel College where I was doing a graduate course for Primary School teaching. I had loathed every minute of the teaching but had reckoned that this was my human lot and that now was the time to knuckle down, join the human race and enjoy a life of "quiet desperation".

Just before the results came out the Dominican nun who ran the college, a shrewd intelligent woman, summoned me to the college and informed me that I had failed my teaching practice, and further that her (kindly) advice to me was to attempt another career.

I was shattered, I had met my present wife (she was in my class at Sion Hill), I had organised a job in a school (men teachers were rare and popular) and suddenly the rug was pulled from under my feet.

But then the realisation struck me - I no longer had to teach - the world was my oyster - I could do whatever I liked - follow a career in cooking which I loved - and at that moment my heart lifted and to tell the truth it has remained lifted since that day.

The following week saw me, cap in hand, knocking at the door of Snaffles Restaurant in Dublin's Leeson Street. The proprietor, Nick Tinne (see Emlaghmore Lodge), was delighted with me. Having a degree in English and History he saw as an excellent basis for cooking (he himself had been a Cambridge rowing Blue) and serendipitously he told me that "My girl Trudy is leaving at the end of the week- could you start on Monday?".

I took to cooking with joy, loved every moment of it (still do) and often thought of the marvellous coincidence of Trudy just heading off at the exact right moment and quietly gave her thanks.

Some years after I heard that a Trudy had opened an eponymous restaurant in Dun Laoghaire and decided (on no evidence whatever) that it was one and the same lady.
Cut forward now through the years to last week on the terrace of Le Presbytère in Thezan les Beziers.

An old friend who was staying, asked if she could bring a couple to dinner one night. "They are Trudy and Tony," she said. "She had a restaurant in Dun Laoghaire for some years".

I confess I felt some trepidation - was this going to be the lady who had given me my very first chance behind the stove ?

She wasn't in the door when I had to ask he if she ever worked in Snaffles - " Indeed I did." I had found my Trudy! - and incredibly she spends her life now between the West of Ireland and Faugères, down the road from us in Thezan.

I think she was a little bemused by my gratitude in her leaving her job so conveniently (for me) all those years ago, but all that was lost in terrific remembrances of the Tinnes, and the wonderful waiting staff of Snaffles in the early Seventies.

-------------


0 Comments
---
Rooftops


July 05, 2014
06:11 AM

Rooftops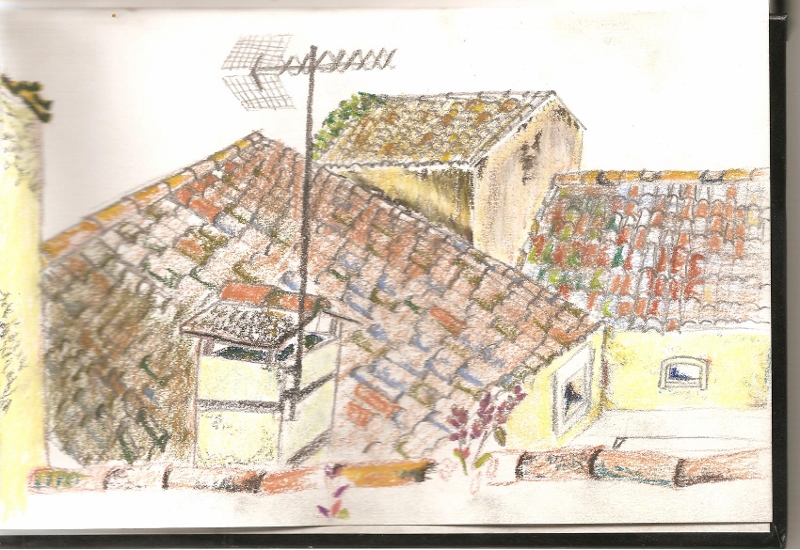 Beth Gorman, a fifteen year old from Edinburgh, did this pastel from our terrace yesterday. This is the first time anyone has attempted to show oue view from the terrace and so she kindly let us copy it. Thanks Beth.
0 Comments
---