---



Mimosa


January 31, 2016
07:42 AM

Mimosa


Morning sunlight catches the Mimosa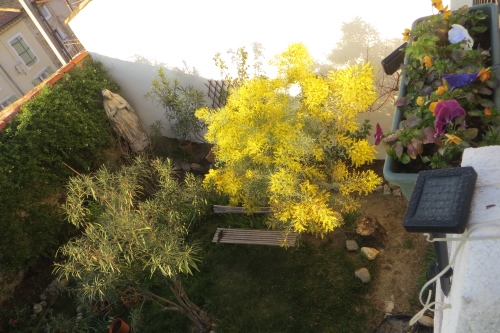 0 Comments
---
Over Murviel


January 28, 2016
03:46 PM

Over Murviel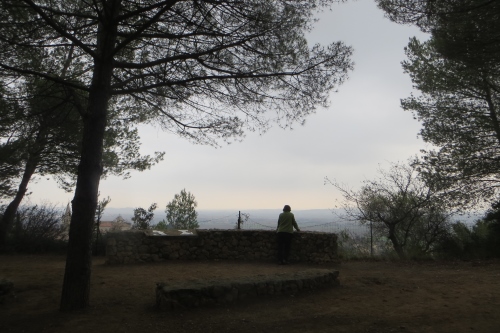 0 Comments
---
Evening Herault


January 27, 2016
12:41 PM

Evening Herault


About 2009 I found on the internet an excellent , knowledgeable and very informative blog for this region. It was called the Evening Herault and was, it seemed (we were never told for sure) written by a Dublin couple who had a French house here in the Herault somewhere on the Canal de Midi. They were most careful about not revealing their identity and despite me trailing my coat in front of the site many times I never did discover who they were.
Then, quite abruptly, about 4 or 5 years ago they disappeared.

I am still curious as to their identity and miss their informative blogs.

Anyone out there with any idea do pm me at martin@lepresbytere.net


0 Comments
---
Bill Buford


January 26, 2016
11:14 AM

Bill Buford



Sometime in around 2005 I read an article by Bill Buford, a staff writer in the New Yorker, about his meeting with and subsequent working for Mario Batali.
Batali cooked in and owned (with one Joe Bastianich- to whom we will return) New York's most famous Italian restaurant ; Babbo in Manhattan. He also was a hugely popular television chef in the states, eccentric, immensely colourful and certainly larger than life in every way.
It happened that, in 2002 Bill Buford, at this stage a "keen but basically clueless amateur cook" was giving a birthday party for a friend who was also a friend of Batali's and he had the temerity to ask him along to the party. As Burford tells it his skill, or lack of it, became unimportant as Batali took over the evening.
As well as the various alcohols he brought with him Batali also brought some home cured Lardo (yep , that is pig fat) which , rather like a priest at mass, he proceeded to place on the tongues of the willing guests " this is the best song sung in the key of pig" and as he fed them Grappa flavoured with quince and Grappa with walnut he regaled them with stories of food and eating. He told them that he and Jo Bastianich would frequently put back a case of wine during an evening meal in Italy, thereby encouraging the party even further. Batali then asks Bill Buford to join him at a football game the following day where he discovers that Batali is also a hero of these hard boiled fans " I just love this guy" said a security man to Buford "Just lookin' at him makes me hungry"
The upshot of all this is that Buford decides, incredibly- he must have been in his fifties- to give up his solid New Yorker job and start to work for Mario in his kitchen.
This he does and eventually works his way up to line chef there when he further decides to follow Batali's career path and work for Marco Pierre White in London and then a Pasta Maker and after a butcher in Tuscany.
Now all these moves I followed with great avidity as Buford wrote his continuing story in the New Yorker ; fantastic tales of incredible hours of hard work in New York, London and Italy.
He brought this progress together in a book called "Heat" which he got published in 2006- and this is still available.
His very last words in the book (which I found hugely influential I confess) were his answer to Batali when he asked when he was going to open his own restaurant. Buford said the time was not right :"If I am really to understand Italian cooking I must follow Catherine de Midicis….I need to cross the Alps and learn what happened next. I have to go to France"
That was written sometime in 2005 and then there was no more in the New Yorker from Bill Buford. But last year he came back into my life in a most surprising way.
There was a family reunion in Le Presbytere during the summer, various brothers and sisters originally from County Carlow now well scattered through the world, getting together for the first time in years. Franco, the Italian husband of one of the ladies escaped the Irish reunion and came quietly into the kitchen shortly after they arrived (people quite frequently do) He told me that his sister was in the business, as it turned out this was a little understatement. She was Lydia Bastianich, USA's most famous Italian television chef, partner in many restaurants with one Mario Batali and mother of his – previously mentioned-business partner Joe. Franco was surprised with my familiarity with Batali- really unknown outside America- but getting more so as he became famous for huge charity works with the like of Bono et al. But then I had read Buford and he had stuck in my mind.
After Christmas and with some time on my hands I decided to submit a piece on Drisheen, a blood sausage from my native Cork, to the Oxford Symposium of Food as their theme for this year's Symposium is "Offal" This they published on their face book page. To my pleasure this was "liked" and commented on by various people, among them, to my wonder, one Bill Buford. Of course I stretched out my brass neck, and wrote him a fan letter and asked him if he had ever gone to France and had he written about it yet. The kind man replied:
"Thank you! I've been, 5 years in Lyon, and am finally finishing the book, to be published in the fall (with luck, grace, an absence of gravity, etc)"
So I have another treat awaiting by next Christmas, Bill Buford in a Restaurant in Lyon- I can't wait !



0 Comments
---
A Strange Coincidence.


January 25, 2016
09:21 AM

A Strange Coincidence.


I first posted this blog ten years ago today.
It is about a strange coincidence which Síle and I discovered just when we started to go out together, concerning a photograph which must now be at least eighty years old.

Sile and I had met in Sion Hill teacher training college in 1971 and had started to go out together in Connemara in the Easter of 1972.
Of course Sile had to come to Cork as soon as possible to meet all the family and friends, she was from Skerries and had beem born and reared in Westmeath, so would never have met these people before.
We went to see my friends Siobhan and Sue Curtis who lived on the Magazine Road in Cork at that time (the last entry photograph of the two of us must have been taken then by one of them in their back garden)
As soon as we were in the sitting room of their house Sile spotted this photograph of Sue and Siobhan's parents wedding on the mantlepiece over the fire.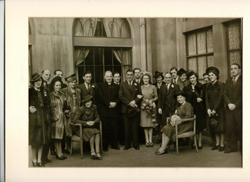 Something about it obviously intrigued her as she stood up for a closer look. She had recognised her mother in the photograph!
Sile was quite correct , her mother was not just at the wedding but had acted as chief bridesmaid.
Sile's parents and the Curtis parents had been friends in the forties but had lost touch over the years.
Madge Curtis (better known to the people of Cork as "Maeve" the woman's editor of the Cork Examiner) had been on holiday in Glengarrif with Sile's mother when she had met Tony Curtis, the groom in the wedding photo.
The two ladies had taken photographs of each other on their bikes on that holiday and we found these recently when looking through old photos in Sile's parents house in Skerries.
This is the one of Sile's Mum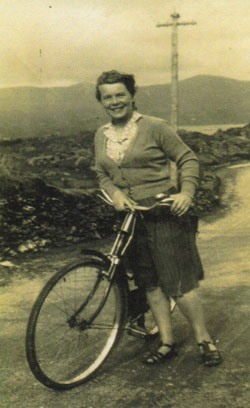 And this of Madge Curtis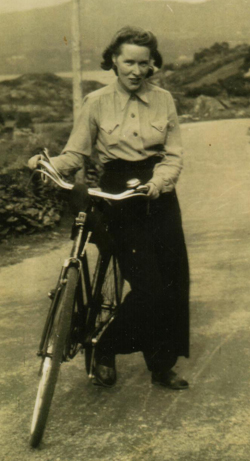 Small world isn't it!
0 Comments
---