---



Early Morning Birthday Selfie


January 22, 2015
08:02 AM

Early Morning Birthday Selfie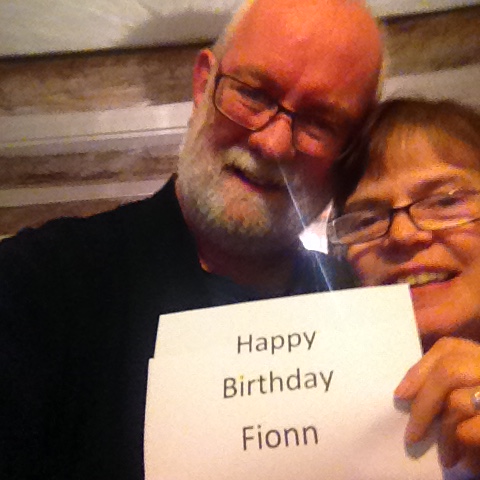 0 Comments
---
Deise Greenway


January 20, 2015
07:16 AM

Deise Greenway


So pleased that the Deise Greenway is becoming a reality at last. In March 2005 (ten years ago) we walked it having been previously introduced by friends from Kilmac. Below follows an account of that day:


Walking the Railway Line March 14th 2005

Yesterday was my birthday, (56 if you must know) and most of my family kindly gathered around me to celebrate. Saturday night was the birthday dinner. I had bought a 3 ½ kg fresh rod caught Bass from Liam Burke in Ballybricken on Saturday morning.
It came in the door of the shop as I was there and left with me.
This was my night off the cooker so Sile and Caitriona cooked it (exactly as instructed in "Bass with Pak Choy" under recipes) and it was quite the most delicious piece of Bass any of us had ever eaten.
Thanks Liam and top marks to the chefs.

After dinner we were telling the lads about a marvellous walk we had taken along the old Dungarvan railway line.
This Christmas some friends, who are from Kilmacthomas, had walked us along about 4 miles of the old Dungarvan line between Old Durrow station and Clonea Beach. This is a fabulous walk which brings you through a long tunnel and over a very high viaduct before you get to Clonea.
Fired with enthusiasm Aonghus (the son-in law elect) managed to persuade Caitriona and Eileen that we should try it again on Sunday.It was agreed.

On Sunday morning, fortified with an excellent smoked salmon and scrambled egg birthday breakfast, well wrapped and booted (quite a lot of water underfoot) and furnished with two good torches (for the tunnel) we set off.

To get there you have to drive to Kilmac (thomas for strangers), but pass the turn to the village, take the next left, sign posted Stradbally, and drive straight along this road for about three miles, passing through two junctions as you do. You will then come to a five cross roads, called Carrigahilla Cross on the map, where you take the second right turn along the R675 for about a mile. You turn to the right then and go up over hill and dale for a mile or so, you will go under the spectacular and beautifully arched Durrow Railway Bridge just before you get to a junction where you park the car. From this on you are on your feet. Just cross the road and you will find yourself on the railway line.

A word of caution at this stage, this line has not been used for a great number of years and is not suitable for small children as there are many places where the fences are gone and they could fall considerable distances if unsupervised.

The first bit of interest you come upon is the old station of Durrow. Even though most of the buildings are now ruined it is still very recognisable as a station with its signal box, platform etc. It is a little sad to see it now so gone to seed but still fascinating to imagine it as it was , a once busy halt on a busy line.

As you walk the line you will notice that most of the sleepers and their stays are now gone. The remaining surface is loose granite chips which form a stable if sharp surface to walk along.

There are two advantages of walking on a railway line , one, they are traffic free so you don't have to spend your time dodging Sunday drivers, and secondly the original railway engineers liked to keep the trains on the level so there is no trudging down valley and hauling up hill . On the contrary if a line hits a hill it just tunnels through it, if it hits a valley it just spans it.
This is wonderfully relaxing walking for creaky ankles (mine) and knees ('s)

After a while you notice that the track begins to bore its way into the hill. At this stage the ground becomes quite wet so that the people wearing wellingtons have the advantage. You also find yourself walking through banks of bright green watercress. The track at this point seems to have formed a handy, but very shallow, canal for the local streams so the water is flowing along slowly, a perfect environment for producing healthy green watercress.
A little further on you round a corner and find yourself facing the tunnel.

It is quite dramatic at this point, as it stretches foreward in a dead straight line to the tiny patch of light at the end.
This is about a mile long and goes under a hill called ,according to the map, Ballykeroge Big. Being a class of an amateur word man I decided immediately this must be a version of Ballykeroge Beag or Little Ballykeroge, beag being the Irish word for little, a quick scan of the map however revealed the next townland to be called Ballykeroge Little.
So much for my etymological expertise.

The tunnel itself is terrific, though fairly rough underfoot so bring good torches. Every so often, along its length, it has escape alcoves like little sentry boxes. In quite a few of these the streams have, over the years, carried lime down from the soil which has created the most amazing natural sculptures. There are a few embryonic stalactites and stalagmites and in one of these alcoves a fabulous petrified stream of pure white which looks like a melting glacier.

Marvellous stuff and all just within a few miles of home!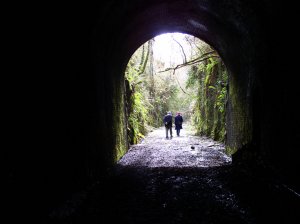 Aonghus and I leave the tunnel

After the tunnel you go along about a mile of sunken track. Caitriona and Aonghus, who spent some time in the far east, said it was just like the Passage of the Dead on the way to the bridge on the river Kwai on which thousands of prisoners had died during construction
It does have a jungle feel to it, with hanging ivy tendrils and mossy walls making it feel quite foreign. Its difficult to remember that I'm still in county Waterford.
The next bit of excitement is the crossing of the Ballyvoyle viaduct. This crosses high over the Dalligan River and gives one a lovely view of Dungarvan Harbour and across to Helvick. This soaring bridge is probably not for people with vertigo as it is a long way down to the Dalligan flowing underneath (not that this stopped my lot dropping stones down into the river and waiting for what seemed like ages for the splash)
The iron railings here look a bit shaky so I wouldn't recommend leaning on them!
The track then goes on for about another mile or so (some of it quite high over the road and with no railings) before it comes to a dead stop in a farm. The first time we walked this, we struggled down through this farm and ended up sipping delicious mulled wine (which one of the party had had the foresight to bring in a flask) on the beach in Ballyvoyle.
This time we met some cows on the line so we turned back at the farm and retraced our footsteps for the car.
We had one more mission.
We stopped and gathered a bag of the succulent green Watercress.
ThisI turned into a beautiful dark green Leek and Watercress Soup when we got home.
Recipe follows (I am still, after all, a chef)
Leek and Watercress Soup.
(enough for about 10 but it freezes beautifully)
60g (2oz.) Butter
2 tablespoons Olive Oil
2 medium Onions
4 Leeks
3 Medium Potatoes
1 ltr.(2 pints) Stock
5 mts. Picking of Watercress
Peel and slice the onions and potatoes and put them to sweat in a large lidded pot.
Fill a sink with water, slice the leeks thinly and swill about in the water to get rid of all grit and dirt. Drain off and add these to the onions and potatoes.
Again fill the sink with cold water and similarly and thoroughly wash the watercress. You should be careful that there aren't little snails sticking to the stems, however a good shaking about in the water seems to get rid of them.
Once the onions, potatoes and leeks have softened you can add the stock to the pot and bring it up to a good rolling boil. At this stage throw the drained watercress into the pot, bring back to the boil and simmer for 4 to 5 mts. Liquidise , season and serve.
My lot polished off most of it after that walk.

0 Comments
---
Menu French


January 19, 2015
09:23 AM

Menu French


This is mainly a blog I put out about 10 years ago on this site.
I just recently put it up on the facebook page of the Oxford Symposium of Food and Cookery:


Because there is a strong tradition of using French as the language of professional food there always has been a tendency to get the French words wrong in menus.
Somehow the translations never quite work.
Dutch Sauce does not sound like it would have anything of the buttery richness redolent in "Sauce Hollandaise", something called "Skewered Lamb Nuts" doesn't have the same ring as "Noisettes d'Agneau en Brochettes" and one would not wonder at Profiteroles made from "Cabbage paste" not having the same airy lightness as those made from "Pate A Choux."
To compound out difficulties the naming of dishes in France has quite often been done by people whose love of the food they were producing was often to lead them close to poetry.
A fresh green herb sauce for fish is known as "Sauce Vert Pre" –green meadow sauce, a simple butter and lemon garnish for Trout or Sole is known as "A la Belle Meuniere"-in the style of the beautiful millers wife.
Because of the supposed soporific effect of Lettuce, soup made from that plant was called "Potage Pere Tranquille" or a soup to quieten Father. This has always brought to mind our own (Irish) folk song ;The Spinning Wheel.
In the song the mother was sent to sleep by the hum of the spinning wheel as spun by her daughter aware of her lover waiting outside the window, the French daughter of course relied on food to quieten Father, and fed him on lettuce soup before making her escape. The effect however is the same in both;
"Noiseless and light to the lattice above her
The maid steps, then leaps to the arms of her lover."
But for pure poetry I have to go back to my cookery muse, Elizabeth David.
In French Provincial Cooking she names a melon Ice cream "Glace au Melon de l'Isle St. St Jacques" because:
"The melon has a strange almost magic flavour and that is why I have called it after that French Caribbean Island so unforgettebly conjured out of the ocean, only to be once more submerged, by Patrick Leigh Fermor in "The Violins of St Jacques".
The French nomenclature has left us with a very useful shorthand of typical garnishes for foods. We can all be pretty sure that "A La Provencal" will contain at least tomatoes and possibly garlic and black olives as well. Dishes served "A La Lyonnaise " will contain onions. "A La Bourguignonne" will certainly contain red wine, "Normandie" cream, with a strong possibility of apples or cider.
They did not however stop at naming dishes after their own provinces.
We have already mentioned the Dutch, the Italians were, for some reason given "A garnish of chopped Mushrooms" The Hungarians, more understandably Paprika. A l'Indienne is the French description of a Curry which is one example of them getting the name right but never quite managing to perfect the spicing. I always think that the English have a much better handle on this dish than the French, probably because of their stronger colonial background in India.
The French however gave the British very little credit for culinary expertise, "A l'Anglais" refers to something boiled in water.
The Germans and Spaniards fared much better, the former having a classic Veloute sauce enriched with egg yolks and cream named in their honour, the latter having Sauce Espagnol, one of the great Sauces Meres of French cooking called after them. One can search in vain in the Larousse Gastronimique for an "A l'Irlandaise. We can however make a tenuous connection with Mayonnaise, supposedly first prepared for a certain General Mahon by his chef. Definitely a man of Irish extraction.
Talking of Irish extraction it is very interesting to note that we can claim to have a half share in the Swedish royal house.
Napoleon's marshal Bernadotte was tactically granted the Swedish throne by the Swedish people when their monarch died without heir. The same Bernadotte had married Desire Clary, an old squeeze of Bonies, who's parents were involved in the silk trade in Marseilles and were originally Clearys from the west of Ireland.
To get back to the point, the problems involved in getting the French names correct on our menus often gives us amazing dishes.
I have seen the "belle meuniere" mentioned above offered as "Sole Manure",and, in the sixties, when they were still a novelty, a friend was offered "Koo-Jets" in a Kilkenny restaurant. She was delighted when they turned out to be courgettes. Another friend when she requested a "Mille Feuille" pronounced in the French manner was gently corrected by a waitress who told her it was a "Milly Filly", I'm not at all sure that that wasn't an improvement.
But my own two favourite pieces of menu mistakes come from the time when I was working as a waiter in Barley Cove Hotel in West Cork.
Seeing the giggles of a table of city people one lunch time I discovered that the reception had gotten the "Buttered Peas" on the vegetable offerings wrong, somebody's finger had slipped down a line and they had become "Buggered Peas"- the mind boggles!
However the same typist bettered even that when , the following week,one of the desserts on offer was the wonderful option;
"Lemon Meringue Piss".


0 Comments
---
Le Mot Juste.


January 18, 2015
04:20 PM

Le Mot Juste.


The French adore their language and are really not forgiving when one makes mistakes. ( I have had shopkeepers correct me sharply for getting a gender wrong and using Le where I should have said La) but they are also deeply appreciative when you can demonstrate some fluency with the language.

Today we went for the first time to see Le Vieux Cimetiere in Beziers- not to be confused with Le Cimetiere Neuf.
I asked the most obliging concierge if he had a plan as we had heard that there were some impressive statues here Because it was called the Old Cimetiere I asked him was it still in use.

"Mais Bien Sur" he said.
" Ah!" I said "C'est vieux mais c'est pas ancien"

I was rewarded with a large beam.
I had demonstrated to him that I understood a certain subtlety of the French language. Where Ancien means old, or even very old it also means former or no longer in use.

I know it is pathetic but I still treasure moments like this


0 Comments
---
Bandes Dessinées


January 10, 2015
11:38 AM

Bandes Dessinées


It strikes me that people living outside France might not be aware about the reverence and respect in which the cartoonist is held here.

Strip cartoons here, called Bandes Dessinées, would be regarded as a legitimate art and books of these cartoons would merit an entirely respectable place in the bookshelves of intellectuals.

Look at the French language cartoons which have achieved world renown like Asterisk and Tintin and you begin to realise how seriously these are taken here.

The fact that there is a weekly magazine dedicated to political cartoons tells us much.
Those cartoonists who were massacered last week were household names, trying to relate this back to Ireland, or even England there really are no comparisons on the same level.

This is why the whole country is mourning and in shock.


0 Comments
---