---



Du Swing Del Catet


July 23, 2017
06:57 PM

Du Swing Del Catet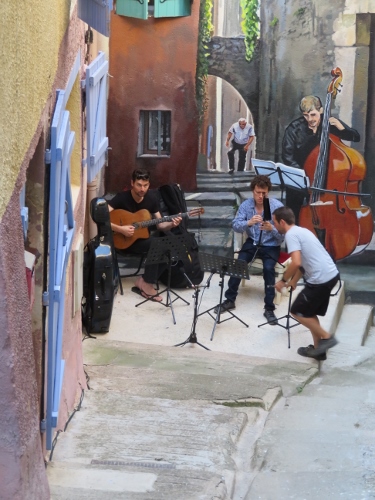 Cellist Francoise Saique and guitarist Samuel Stouk warm up for their performance on our own Rue del Catet for the Festival les Nuits [inattendues] Del Catet.

0 Comments
---
Rescue Sunflower


July 20, 2017
07:53 AM

Rescue Sunflower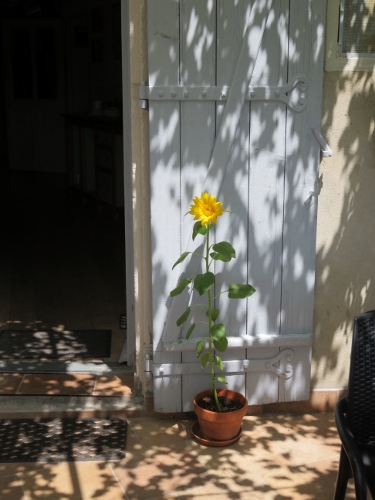 This plant has led a charmed life.
The sunflower seed was originally part of a bird seed mix which was spilled from the feeder by a clumsy sparrow and landed in the flower box where Síle later planted the basils. She was going to discard the "Intrusive weed" when she thought she recognised it and gave it a pot of its own.
The intrusive weed then justified her faith by growing up to be a beautiful Sunflower.
All of the dramas of plant life happen on our terrace here in France.

0 Comments
---
Lost in Translation One Hundred and Sixteen


July 11, 2017
07:46 AM

Lost in Translation One Hundred and Sixteen


"Ce jour en 1893, Maupassant rendait son dernier souffle."
Just read this with some surprise- had no idea Maupassant was into cooking.
(The perils of not using accents)


0 Comments
---
Coeurs de Boeuf


July 10, 2017
01:23 PM

Coeurs de Boeuf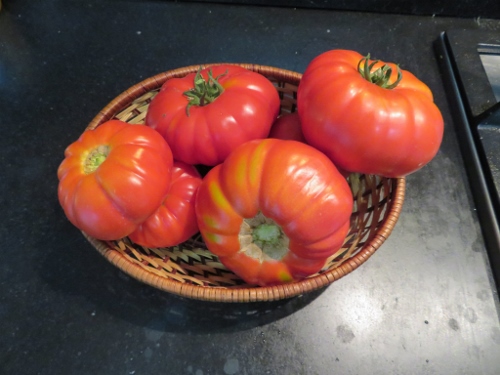 Our eggman (no walrus he) comes around on a Monday morning and usually has something extra- often from his own garden- in his van. Last week it was these Coeur de Boeuf tomatoes so, even though they are ugly blighters, we decided to try them out.

I made a gratin of Fennel with them, some onions, garlic and black olives and scattered the top with grated Comte (a Jane Grigson recipe, she calls it A La Nicoise).
A little undercooked the first time but reheated last night it was stunning and the star was the slices of Coeur de Boeuf.
They were wonderfully meaty with intense flavour despite all the cooking and reheating.

I'm a fan.
0 Comments
---
Something Wicked


June 30, 2017
08:16 AM

Something Wicked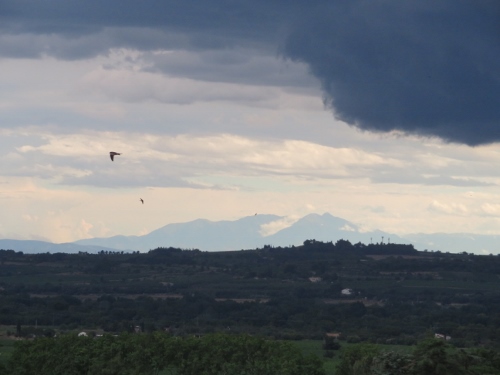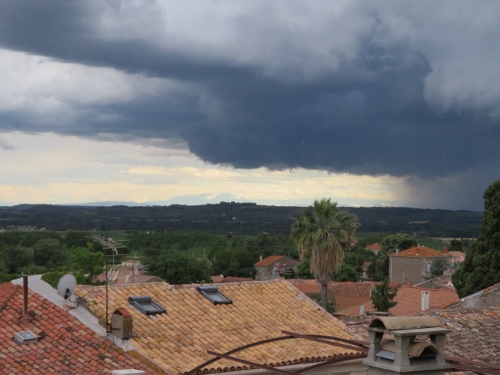 A sudden storm sweeps away the cloud cover from Mount Canigou and marches towards us. Five minutes later we were whipped with a violent squall, we lost electricity and the rain thundered. Five old plane trees were knocked on top of cars in Pezenas but no-one was injured.
An hour later it was all passed.
0 Comments
---