---



The Consolation of Autumn.


September 30, 2015
01:45 PM

The Consolation of Autumn.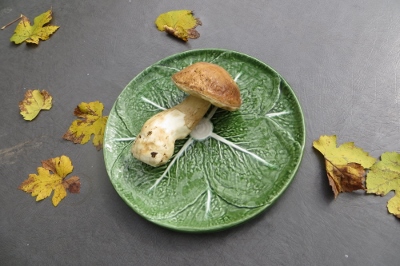 0 Comments
---
Harvest in Herault, Olives and Grapes


September 22, 2015
10:31 AM

Harvest in Herault, Olives and Grapes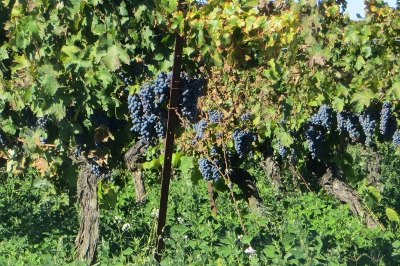 0 Comments
---
The Man from Pula.


September 07, 2015
11:40 AM

The Man from Pula.



Funny things happen when you run a B&B in rural France and sometimes the world comes to your door.
We had a party of six booked in for this week, six people, a family group, two doubles and two single rooms which means they filled our four rooms.
As we guessed they turned out to be a family holiday, two sisters with their husbands and a single brother and sister. They were all originally from Tullow Co. Carlow but were now scattered through Ireland, England and the States.
After they had settled in their rooms one of the husbands, Frank, from New York but with a strong Italian accent, came down to me in the kitchen where I was busy cooking and asked could he help.
" I am used to working in restaurants- my sister has one" he told me.
That turned out to be one of the greatest of understatements.
Gradually by talking to Frank, to his wife and sisters in law and by much dipping into Wikipedia, I managed to piece together his story.
Frank (properly called Franco) was born in the town of Pula in Istria, then in Italy, directly across the Adriatic from Venice, in the early forties. His only sister, Lidia was born in 1947 and then, just six months after her birth Pula was seceded to Yugoslavia and so the young family found themselves in a communist regime.
They made a daring escape to Trieste in Italy in 1957, with just the shirts on their backs, where they were incarcerated in a camp, just recently abandoned by the Nazis.
In 1958 they got a visa to America where they worked hard and while working in a Pizzeria in New York Franco met a girl from Tullow, Margaret O Donoghue whom he later married. Frank afterwards qualified as an engineer and has had a long career with IBM.
His sister Lidia however decided to continue with the catering, met a fellow Istrian, Felice Bastianich and they married, had set up a restaurant in New York.
Over the years Lidia and Felice founded an Empire of restaurants throughout the United States including "Felidia" in New York which had three stars form the New York Times.
Lidia also took the time to work on television and became a renowned Italian chef work on many programmes over the years, including working with Julia Child with her "Cooking with Master Chefs" series.
After her husband's death Lidia continued to expand her empire and went into partnership with Mario Batali- probably America's most famous celebrity chef- to found the commercially and critically acclaimed chain of restaurants "Eatily"
You will probably have realised by now why I was discovering why his statement ;
"I am used to working in restaurants- my sister has one" was the understatement of the year.
As a constant reader of the New Yorker I was aware of Mario Batali and even vaguely aware of the Bastianich empire of restaurants where Joe, Lidia's son (another television presence in the States) is much involved.
As they left this morning (and they were a lovely family- it was sad to see them go) Franco said "I will tell Mario about you- he is a lovely man and a great friend."
You can meet some great characters in this business.



0 Comments
---
Had I an Egg Cup, Had I ?


September 06, 2015
08:28 AM

Had I an Egg Cup, Had I ?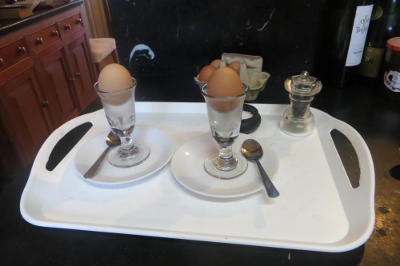 Was asked for boiled eggs for the first time this week and , lacking egg cups, had to make do with sherry glasses.
Looked kinda special though.

0 Comments
---
Donnadieu's Wine - revisited


September 03, 2015
03:48 PM

Donnadieu's Wine - revisited


As we drove back last week from a trip to Les Gorges d'Heric I caught a glimpse of Madame Donnadieu's establishment and determined to find the endearing poem - still just about legible nine years later- which I had written about nine years ago.

"On the way up to the Monts d'Espinousse from Thezan we pass the village of Vieussan.
Just close to the village is Jean Donnadieu's vinyard.
Madame Donnadieu always keeps a little table on the road by their house where she not only sells her husband's wine but also various conserves and jams which she makes herself.
She makes a very good Pate de Coing (Quince Paste) and a delicate Violet Jam as well as some more run of the mill Apricot and Plum varieties. (She also makes some jam from the Arbutus Tree which grows wild in the hills here).
We took to stopping to replenish our stocks as we passed her.

Behind Madame's table there is an old wine cask built into the wall and on that someone has daubed an advertising slogan;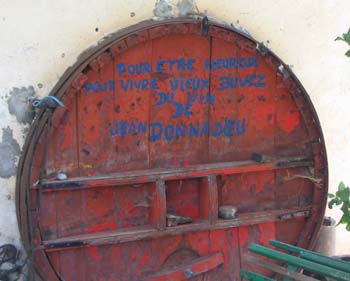 Pour être heureux,
Pour vivre vieux,
Buvez du vin
De Jean Donnedieu.
This I have translated as;
To live a life, long happy and fine
Always drink
Jean Donnedieu's wine.
You could do worse!"
0 Comments
---