---



Old Friends on the Terrace


May 02, 2015
06:05 PM

Old Friends on the Terrace


Síle's brother Colm with bits of Madrigallery on the terrace at breakfast this morning.
0 Comments
---
Tablecloth


06:02 PM

Tablecloth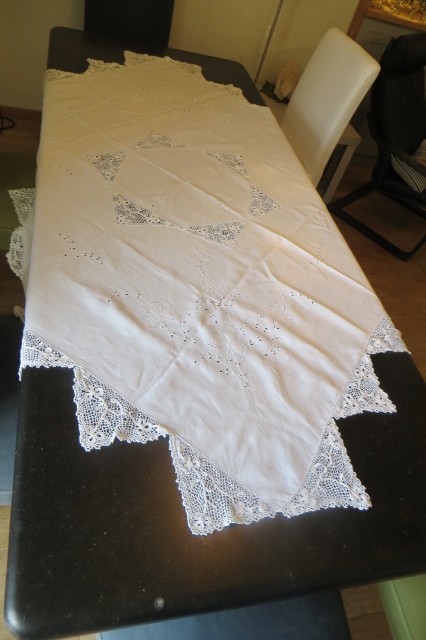 It was Síle's birthday on May 1st and brother Colm, who is with us, presented her with this amazing tablecloth which has been stored in the family home for many many years. It is an exquisite piece of (we think) Kenmare Lace. We are going to have to find a place to display it because it certainly never will be allowed acquire red wine stains !
0 Comments
---
Moving Pictures


April 25, 2015
07:18 AM

Moving Pictures



Nicolas de Stael and Giovana Garzone have just swapped walls.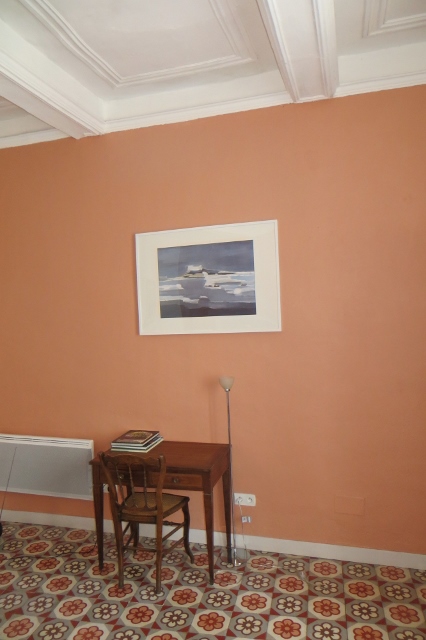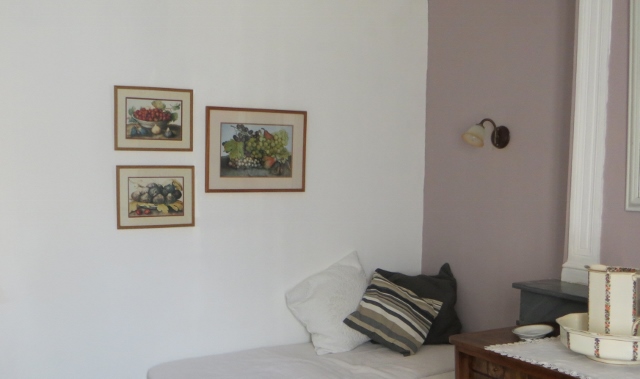 0 Comments
---
From Tripadvisor March '13


April 24, 2015
05:50 AM

From Tripadvisor March '13


Writing reviews for places and a meal in Collioure prompted me to have a look at what people have said about us on TripAdvisor.
This one in March '13 from a charming American couple, he a professor of Architecture, she an interior designer, was one that nearly made us blush !


"Never, in all of our travels, have we been so warmly welcomed as we were by Martin and Sile upon on arrival at Le Presbytere.
Arriving on a very cold and rainy afternoon in March, their offer of a hot drink and an invitation to join them around the fire felt like something from a storybook. We were the weary travelers arriving at a wonderful refuge.

Their historic old house has been thoughtfully restored yet maintains its traditional French country appeal. The guest rooms are charming, the beds are comfortable, and most importantly given the weather, our room was warm and cozy, with a lovely view across the village that stretched for miles.

And then there was the food...so carefully planned and prepared and served as if you've been invited to dinner with old friends.
Martin is excited to cook for his guests and his passion comes through in the food. Everything from the roasted lamb and local carrots at dinner to the homemade bread and jams at breakfast is delicious. Conversation flows easily, and you think how fortunate you are to be part of this dinner party.
Martin and Sile are excellent hosts, anxious to share their local knowledge, suggest sights to see even in the rain, and do anything they can to make your visit memorable."


0 Comments
---
The Marriage Referendum


April 20, 2015
07:47 AM

The Marriage Referendum


I am not going to be able to vote at the coming referendum in Ireland but this of course does not stop me having an opinion.

I am hoping that we will bring a resounding vote of yes.

I have, with some wonder been looking at the No voters arguments;
principal among these it seems is that a child should best be reared by a male and a female- which seems to me to be utter nonsense.

There used to be a day when the Mother provided the nurture and the Father's role was to have as little contact with the children as possible.
I am so pleased to see that now that day is well passed.

"Mothering" and "Fathering" are now provided by either sex and indeed in the eighties when we were raising our children they were so unaware of our roles that they would frequently address us by the other parents name.


0 Comments
---