---



Progress on Progress


July 26, 2016
08:37 AM

Progress on Progress


This is a copy of a blog I put up eight years ago when the presbytere was still very much a work in progress.
Here I contrast these shots with up to date ones, taken from more or less the same angle.


Even though the place still looks extremely rough, and rather better in the flesh than in the shots, I accept that, if only to compare with the finished product, these should be published.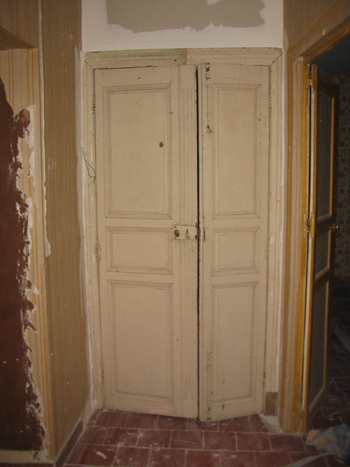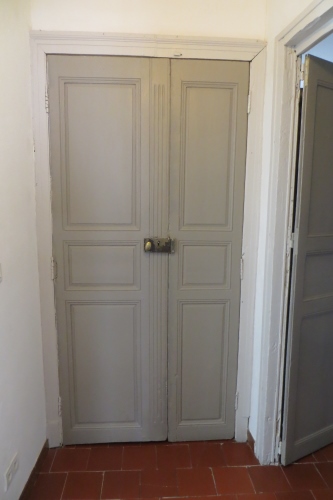 This is one I am rather proud of, a door which was never there before. We found in the attic and , despite his protests we persuaded the builder to install it.
It now looks as if it was there for ever.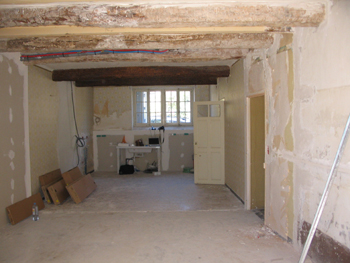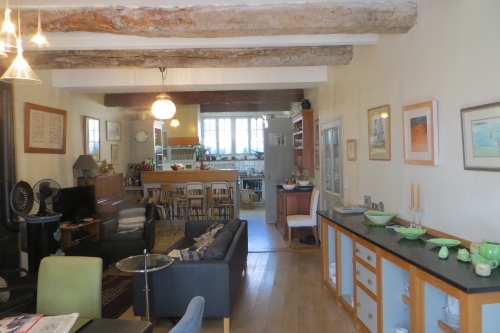 This is a long shot of the Kitchen /living /diningroom.
The plumber has erected a tempory sink at the end for us for the summer as the kitchen proper won't be installed until October.
Very much a work in progress this.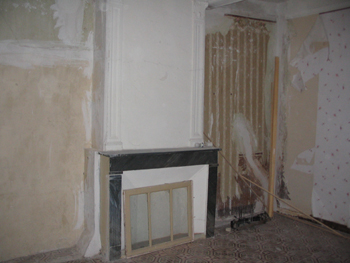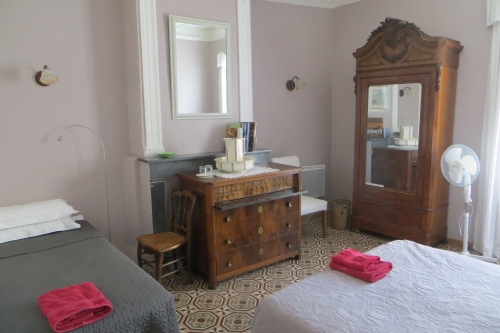 This bedroom, which, for obvious reasons we call the fireplace room, at Clive's insistance and again despite the builders objections, we cleared the false walls at both sides so that the fireplace again stands proud.
It makes a great difference.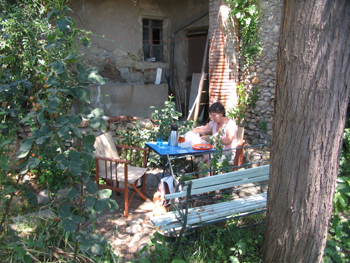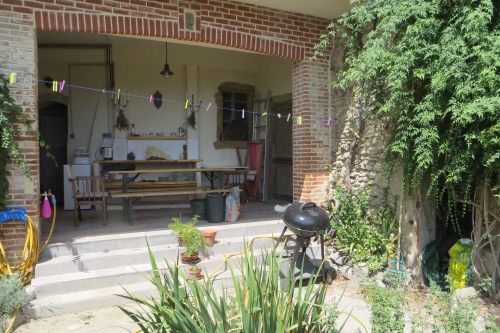 Just to give you an idea of how filthy and unfinished the house is we were there on Saturday at lunchtime and picniced in the garden rather than anywhere in the house
0 Comments
---
Catet Festival 2010


July 25, 2016
11:46 AM

Catet Festival 2010


Blog entry six years ago today.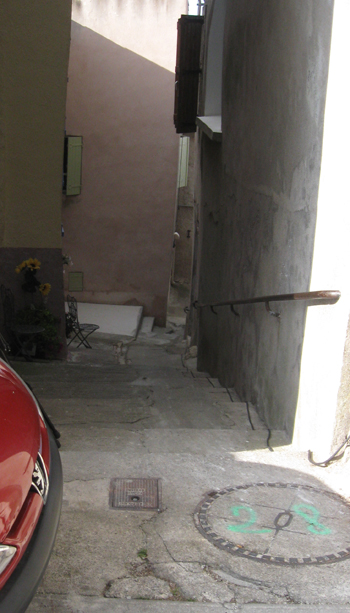 I knew they were going to give a Chopin Recital on our tiny rouelle, Del Catet, as part of the local arts festival.
They arrived three days ago and created a little concrete plinth for the piano.
(things are not done by halves here)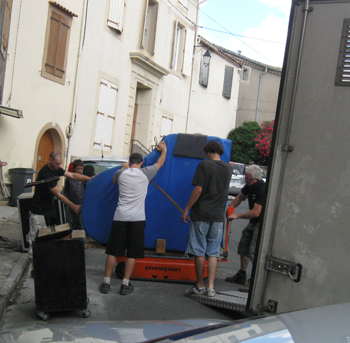 I was watching for the moment and was delighted when this van pulled up outside our house and disgourged a piano at the top of the Del Catet.
I knew I was going to be disappointed out of a "Right said Fred" moment when I saw that it was carried on a little caterpiller called a Pianoplan, this was possibly designed for getting Grand Pianos down stone rouelle steps.
The Pianist and I watched them as they rolled it down the steps.
"Tis the pity of God " I said to him in French " That you didn't take up the concert flute or the trumpet "
He laughed, insincerely.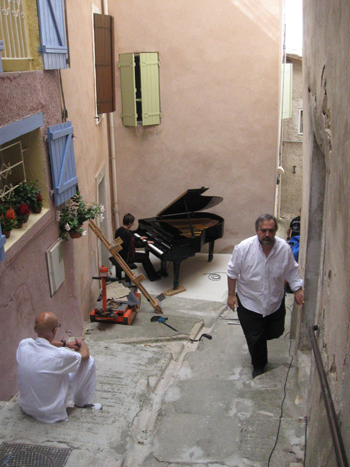 No sooner was it upright in the bottom but he began to practice.
A truly magical moment as the walls captured and magnified the sound and threw it up into the Place del Eglise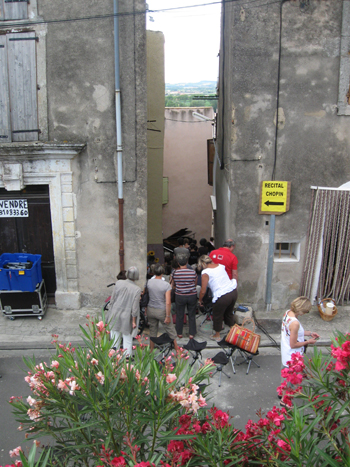 Soon enough the crowds started to gather.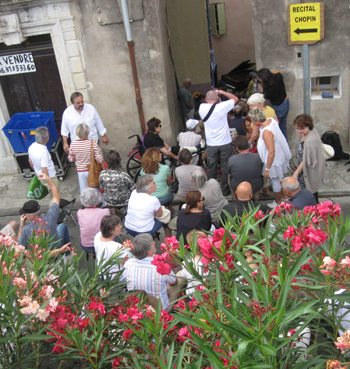 Eventually there was a sizeable audience.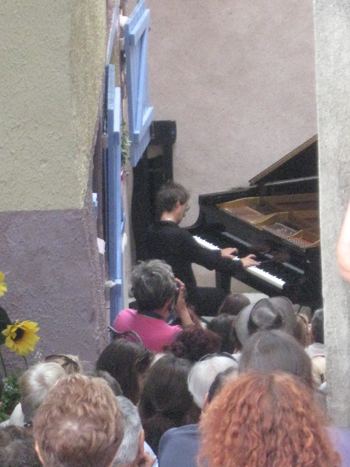 The pianist, who was called Francois-Michel Rignol, played beautifully.
First the standard Chopin waltzes and then some absolutely marvellous sonatas.
Magic.
0 Comments
---
Nuits del Catet


11:35 AM

Nuits del Catet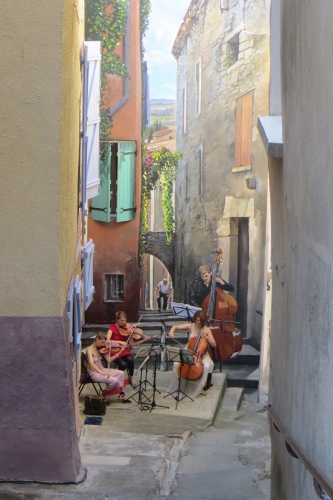 The cleverness of the Trompe l'Oeil on the Rue del Catet comes into its own when a real string trio play before it at the opening of our eponymous festival "Les Nuits de la Terrasse et del Catet."
0 Comments
---
On Gluten


July 23, 2016
03:26 PM

On Gluten


A long long time ago I studied Archaeology in University college Cork. One of the things which has for some reason lodged in my brain was that the advent of Plantago Landceolata (Plantain), or as we call them in Cork "Soldiers", was the indication that man started to farm as well as hunt (they being weeds of cultivation and needing ground cleared for cultivation to flourish).
This happened roughly the late Mesolithic, the end of the Paleolithic, but before the Neolithic sometime between 10,00 and 8,000 BC (as we used to say then)
Anyway as wheat is reckoned to have been the first crop farmed we, that is man, have been eating wheat, bread and its derivitates for certainly the last 10,000 years, and it appears thriving on it.


0 Comments
---
Nuits del Catet


03:18 PM

Nuits del Catet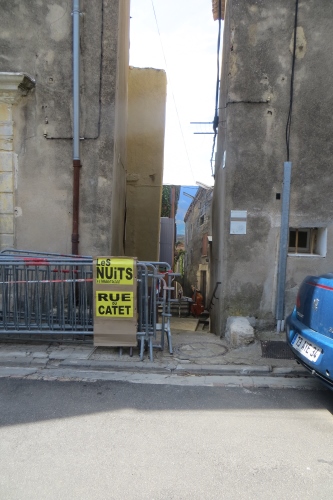 Exciting moment as they put the barriers in place for our own personal festival. I put claim to it because even though the events are spread among 5 local villages it always opens with a little concert on the steps of the Rue Del Catet which runs just by the side of our house and , consequently the name of this ruelle is included in the title of the festival.They put cushions on the steps and offer chairs about the top (It runs so close to our house that we have become a sort of unoffical green room for the artistes appearing as well as providing a branchement for the electrics and frequently a forgotten chair and even once umbrellas for a string quartet to protect their precious instruments during an unexpected shower.)This year, they will be playing for the first time with a background of our new Trompe l'Oeil and the concert is performed by Les Arties Chamber Orchestra performing works by Telemann,Mozart, Schubert and Dohnányi. This is truly one of our highlights, get here if you can, the concert is free ! Tomorrow Morning, tomorrow,Sunday 24th at 11.30.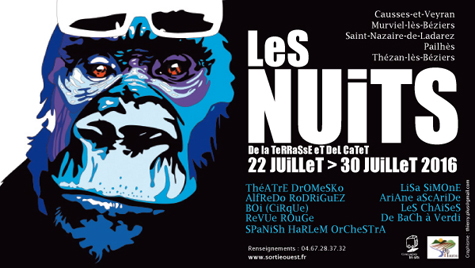 0 Comments
---