---



Clive


July 05, 2015
07:48 AM

Clive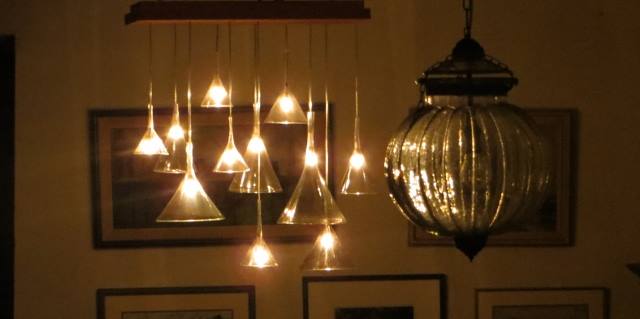 My great friend Clive Nunn died yesterday.
Clive was the godfather of Le Presbytere, designed, made, or sourced every piece of furniture and fitting. Over two years and on many occasions we made the drive out from Ireland to Thezan in his van together.
The van would be laden with furniture he had made in his workshop in the Mill in Thomastown which he would then painstakingly re jig to fit into the weird angles of this old building.
While we were here we would hunt antique fairs and brocantes for pieces of beautiful furniture for the house.
We also managed to do a lot of research into a proposed thesis of ours "The Quaffable Wines of the Languedoc"- but never before the church bell in Thezan had rung in the Angelus.
The picture shows the Lustre des Entonnoires which he designed. made and fitted for me just last Autumn and the glass globe which he spotted in an antique fair in Pezenas in 2008.

There is no way I will ever forget Clive Nunn,his legacy surrounds my daily life.
0 Comments
---
The Conversation.


July 04, 2015
01:49 PM

The Conversation.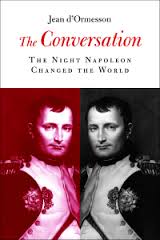 The French have a certain respect and reverence for intellectuals which is quite new to me. That people can be labelled "Intellectuals" as if it were a career choice is surprising.
Quite recently I watched one of these Intellectuals in conversation on the television and being treated with great respect by the interviewer. It occured to me that, if I were ever to pretend to start understanding the French I should perhaps read some words of wisdom from one of their sages. The man in question was Jean d'Ormesson, here is a section of his discription on wikipedia:
"Jean d'Ormesson was born in Paris in 1925. His father was André Lefèvre, Marquis of Ormesson, French ambassador to Brazil. Wladimir d'Ormesson (1888–1973), ambassador to the Vatican, was his uncle.
He was admitted to the École normale supérieure and passed the philosophy agrégation. He later became Secretary-General of the International Council for Philosophy and Humanistic Studies at UNESCO and the director of the French newspaper Le Figaro from 1974 to 1979.
On October 18, 1973, he was elected a member of the Académie française, taking seat 12, following the death of Jules Romains. On the death of Claude Lévi-Strauss on October 30, 2009, he became the Dean of the Académie, its longest-serving member. He is also a Grand Officer of the Legion of Honour. In 2010, he was awarded the Ovid Prize,Romania, in recognition of his body of work and he is Commander of the Order of the Southern Cross of Brazil."
Well our friend Jean was certainly no slouch when it came to intellectual achievements and seemed a good place to start.
I trawled through the books of his which which had been translated and which I hoped were short (and cheap) enough for my digestion. The one I plumped for was from 2013 and called "The Conversation". It was an imaginary conversation between Napoleon and his second consul, a man called Cambaceres, who came from our neck of the woods the Herault.
It is set in the winter of 1803-1804. It is subtitled "The night Napoleon changed the world"
I picked it up this afternoon at 1.00 and finished it one hour later.
It turned out to be a total page turner and I loved every word.
It describes when one of the most brilliant leaders of all time, a totally self made man got entrapped with his own ambition which ultimately led to his downfall.
Here is a piece when he begins to show his true colours, having described how he will conquer all of Europe- Russia and England included- he says:
"My dreams go further than the borders of Europe. I will march on Damascus and Aleppo, I will liberate Syria, I will chase the English from the Levant and threaten them in India. I will overturn the Turk Empire and take Constantinople.....and found a great new Empire thet will secure my place in history"
Brilliant stuff ! And of course it does make you think that he same Napoleon, had he been able to control his own lust for personal power, could well have achieved all of this.
0 Comments
---
The Post-Mistress


June 30, 2015
06:09 PM

The Post-Mistress


My sister D's first husband came from Kanturk and her father-in –law, Gus Kelleher, was probably the best man I have ever heard to tell a story.
Two of his best concerned the post-mistress in Kanturk and her dealings with a particularly fertile inhabitant.

This woman arrived into the post-office one day to collect her children's allowance.
She also informed the post-mistress as she had recently had a new baby she wanted the allowance adjusted accordingly.
Post-Mistress:
"And how can you be having a new child and it well known that your husband is abroad in England for the past eighteen months?"
Mother (cringingly):
"Ah sure Mam, he writes to me"
Post-Mistress (as she stamps the new form):
"Well Jaysus Mam, but he must have a very long pincil"

The second story concerns the revenge of the Mother to the same post-mistress.

She arrives into the post-office, again to collect the children's allowance, and again requests a change for a new addition.
Post-Mistress:
"Well that's a great gold-mine you have got there"
Mother (triumphantly)
"Indeed and you have the same gold-mine yourself Mam if only you'd work it!"


0 Comments
---
The Chateau on the Rock


June 28, 2015
08:29 AM

The Chateau on the Rock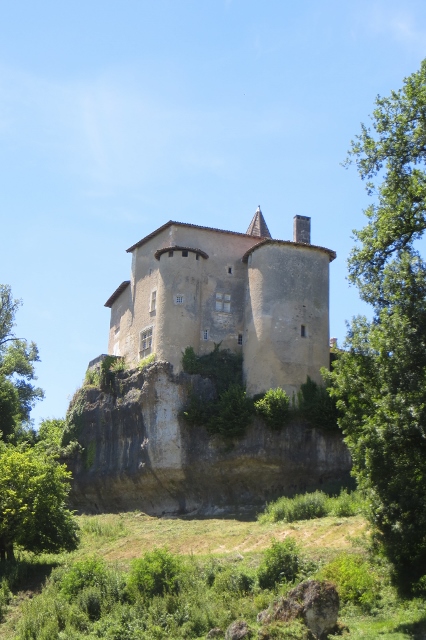 Below are four separate entries from Face Book about a strange castle we happened upon in Perigord:
On the way to see the Chateau of Bourdeilles in Perigord we spotted this marvellous castle perched perfectly on a rock. No name no sign just notices saying Privé. I shall have to start some research

Okay back again to this rather mysterious castle which we passed on the road in Perigord last week. By the simple process of retracing our route on Google Earth I eventually found roughly a large building where I remembered seeing the castle. I pulled out the little man which brings you to ground level and Bingo ! I had it.
It is the Chateau de Ramefort, seems to have been in the same family (also called Ramefort) for some hundreds of years and no it does not allow visits, ever. So much so that I cannot find any pictures of the interior on the net. Furthermore despite being a wine producer of some size they have no web page of their own.
Another little oddity was in a field just under the castle where there was a large rock with an Oak Tree growing from its heart. This also had various windows and apertures evidently carved into it by man. Very odd indeed. I'm still hoping I will come up with some story about the place, or maybe I will just have to invent one!
Okay thanks to a lead from Kathy Dettwyler I have discovered some of the history of this castle. It seems that The Black Prince in the 1350's stayed there overnight which would indicate a certain loyalty of the Ramefort family to the English side in the 100 year war. There is another tradition in the family that there was a secret chamber under the living area which was used to hide English soldiers during the same war. The present owner when asked about this explained that this supposed chamber lay underneath a very expensive parquet floor and that he had no intention of ripping this up to discover if the stories were true.
I tell you you couldn't make this stuff up !
0 Comments
---
Absinthe, Absinthe.


June 27, 2015
05:30 AM

Absinthe, Absinthe.



More glasses !
Well what else is a collector.
People look at my collection from time to time and ask why I collect so much stuff which is the same.
They may well look the same to you- I say- but to me they are all individuals.
Take this six.
Number three and number four we found in an antique fair in Fayence in 1990, 25 years ago. One is marked with a thin line inside the glass which was a measure line for Absinthe, this I only discovered after a bit of on line research. This shape turns up endlessly in Impressionist paintings of Absinthe drinkers in bars during the Belle Epoque in France.
These glasses were the ones that set me off on my quest for French Café glasses of that age. I now own three dozen odd,which we use all the time as wine and beer glasses and possibly more now in boxes in my cellar.
But to get back to my three sets of non-identical twins.
Number two and number six I have picked up since we moved out here, in vide greniers or fairs.
Both are clearly marked with etched lines for an absinthe measure.
Number one and number five I found just last weekend in Angouleme at a fair in the town, both are marked and number one has a particular elaborate stem, unique in my collection.
So if you have a careful look at the set you will see that there are no identical twins among them, each was individually made, blown and shaped by hand, what an amazing thing in these times of mass production.
The other thing which I find charming about the collection is that they had a strict commercial use and are far from being delicate antiques. They were intended as workaday glasses for cafés and bars, to easily withstand being thumped on marble tables and roughly rinsed under taps. This permits me to pour wine into them every night for my guests and explains how, probably over one hundred years after manufacture, they are still doing their job.
0 Comments
---