---



Le Memorial, Rivesaltes


August 31, 2016
07:57 AM

Le Memorial, Rivesaltes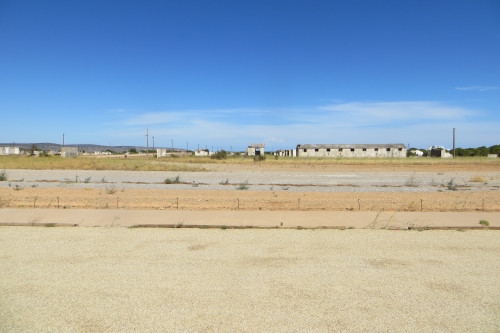 As a one time student of history I have found it extremely difficult to get to grips with the history of my part of France for the last 80 odd years. WW2 and its afters are extremely obscure here, I decided that this was very likely because lots of the witnesses or their close descendants,were still alive. In various books written in English I would get some hints- That Jessica Mitford's husband had spent some time in an internment camp in Argeles , that someone in the Haut Languedoc was involved in running Jews to Spain, mere hints but very little history. Last year Manuel Vals opened an important memorial in Rivesaltes which we visited this afternoon. Called Le Memorial it is the remains of an internment camp in Rivesaltes. When you arrive all you see is an area of ruined Nissan Huts, but underneath in a streamlined bunker is a magnificent museum devoted to refugees everywhere but particularly to the waves of refugees who were housed (some against their will) here. Republican Spaniards fleeing Franco, Jews and Gitanes interned by Nazi France,German prisoners of war, and finally Harkis from Algeria. Go there and see for yourself. I feel the corner of a veil has been lifted on a forbidden topic.
0 Comments
---
Weathering Logs


August 27, 2016
07:22 AM

Weathering Logs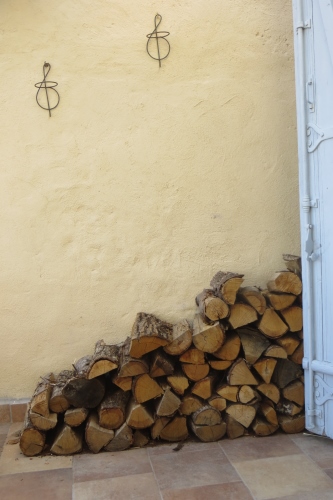 We always have a small pile of wood left over after our brief, three month, winter which has to stay and weather gently until December.
Here is this years, blending in nicely with the wall and the new tiles.
The Staff notations on the wall are old flower pot hangers which we found in the garden ten years ago and I think far too pretty to be hidden with flowers.
0 Comments
---
Best Nine Olympic Gaffes.


August 26, 2016
11:42 AM

Best Nine Olympic Gaffes.


From Greg Scott · Sydney, NSW, Australia ·

Here are the top nine comments made by sports commentators during the Olympics that they would like to take back:

1. Weightlifting commentator: "This is Gregoriava from Bulgaria . I saw her snatch this morning during her warm up and it was amazing."

2. Dressage commentator: "This is really a lovely horse and I speak from personal experience since I once mounted her mother."

3. Paul Hamm, Gymnast: "I owe a lot to my parents, especially my mother and father."

4. Boxing Analyst: "Sure there have been injuries, and even some deaths in boxing, but none of them really that serious."

5. Softball announcer: "If history repeats itself, I should think we can expect the same thing again."

6. Basketball analyst: "He dribbles a lot and the opposition doesn't like it. In fact you can see it all over their faces."

7. At the rowing medal ceremony: "Ah, isn't that nice, the wife of the IOC president is hugging the cox of the British crew."

8. Soccer commentator: "Julian Dicks is everywhere. It's like they've got eleven Dicks on the field."

9. Tennis commentator: "One of the reasons Andy is playing so well is that, before the final round, his wife takes out his balls and kisses them . . . Oh my God, what have I just said?"


0 Comments
---
Adlestrop


11:30 AM

Adlestrop


In 1992, 24 years ago, our friend Isabel Healy, gave us a Christmas present of a marvellous compendium of poems called "Lifelines".

These were favourite poems gathered from famous people (among them Isabel herself) and edited by Niall MacMonagle and some of his pupils in Wesley College- this particular version (I think it was the third volume) had a foreward by Seamus Heaney.

This book has travelled with us over the years (this would be its third house) and always finds a spot in my favourite room for reading poetry-the loo.
It reached the loo in our bathroom in Le Presbytere this summer and I have been dipping in since then. As usual I have discovered a poem which I never remember seeing before, this one the selection of Judi Dench and written in 1917 by Edward Thomas.

It is a very English poem and just resounds with the sounds of a warm English summer's day, I also love the way it shoves in rhymes, unexpectedly and almost playfully.


Adlestrop

Yes. I remember Adlestrop
The name, because one afternoon
Of heat, the express-train drew up there
Unwontedly. It was late June.
The steam hissed. Someone cleared his throat.
No one left and no one came
On the bare platform. What I saw
Was Adlestrop—only the name
And willows, willow-herb, and grass,
And meadowsweet, and haycocks dry,
No whit less still and lonely fair
Than the high cloudlets in the sky.
And for that minute a blackbird sang
Close by, and round him, mistier,
Farther and farther, all the birds
Of Oxfordshire and Gloucestershire.

But I do love a tale with a nice coincidence in the tail !
Having very late in life "discovered" Edward Thomas' "Adlestrop" I went looking to find something about this, previously unknown to me, poet.

He is often labelled a "War Poet" although rather older than most, being in his forties and an established family man when war was declared.

His friend and neighbour in England, the poet Robert Frost, headed back to his native America at the start of the war and Thomas was left agonising whether he, although too old for compulsary conscription, should volunteer for King and Country.
While in this dilemma Frost sent him a copy of his latest poem which , coincidentially is also in the same selection of Lifelines in which I found Adlestrop.
This poem Thomas took as a sign from the fates and promptly signed up and sailed to France where he was very soon killed in a battle near Calais.

The poem from Frost which inspired his death is also a favourite of mine;
The Road not Taken.



0 Comments
---
The Moving of the Loo


10:57 AM

The Moving of the Loo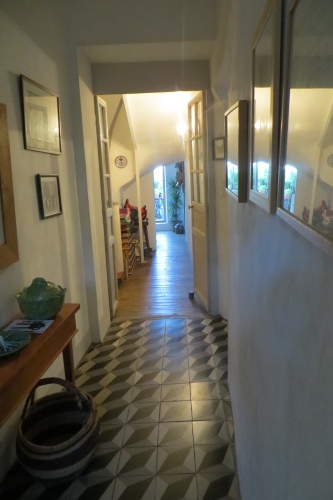 When we bought our house in 2006 we resolved to do absolutely nothing to the house for a year until we had experienced living in it it for ourselves. When we bought there was a loo, probably from the 1900's, inserted in the end of our long front hall.We soon realised that, as most of our daily living was done on the terrace where the window of the loo opened, that all us Irish people were ashamed to tinkle within earshot of other people. So we took the loo out and restored the original back porte fenetre on to the terrace. The added bonus was this lovely internal vista in the house.
0 Comments
---